A collection of surprise leftover cheese on offer with discounts
Regular price
Sale price
£12.00 GBP
Unit price
per
Sale
Sold out
For a lovely cheeseboard, a random mix of cheese for delivery this week. Typically this helps us move through cheese that might be more awkwardly shaped, so you can taste more cheese, and we waste less! You can order this option on any day, if you would like a same day delivery please ask wimbledoncheese@gmail.com, and we will get straight back to you. If you have preferences like no blue, or no stinky bishop let us know by email. 


for £12 there will be at least 3 different cheese options in the bag, (400g-500g)
for £15 there will be at least 4 different cheese options in the bag, (600g-700g)
for £20 there will be at least 5 different cheese options in the bag, (800g-900g)
for £30 there will be at least 7 different cheese options in the bag, (1kg-1.2kg)
for £40 there will be at least 10 different cheese options in the bag, (1.3kg-1.4kg total)
if you'd prefer to divide the cheese between more whole cheeses, bigger pieces, and less smaller pieces please let us know on the chat on the bottom right after placing your order and we'll add the instructions on.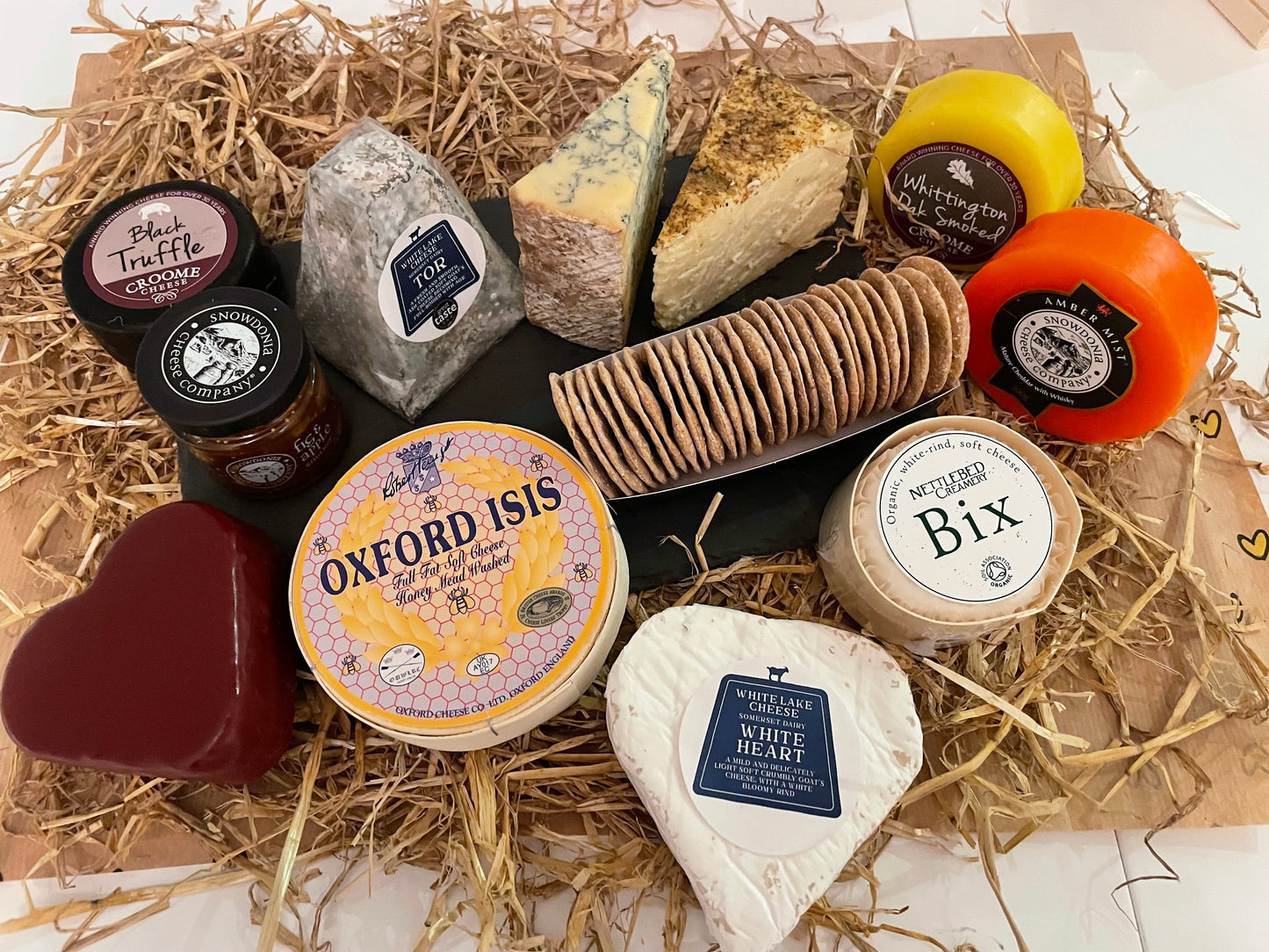 Fantastic selection and great service
Thank you very much for the lovely selection of cheese we received for my husband's birthday. We loved the doorstep rundown of each of the cheeses - great info and delivered with so much knowledge and passion. We will be ordering again!
Cannot Recommend Enough
It's so rare for me to rave about anything, but I love the Local Cheese Cave. Great range of British cheese, lovely personal touch to the service, super convenient. Great for surprising dinner guests with a melange of unusual cheeses - or just to devour yourself!
Heavenly truffle brie
Always a lovely surprise collection and this time it included an excellent truffle brie. Highly recommend this selection for your next dinner party or just because you love cheese
Lovely cheese
We had 5 surprise cheeses delivered and loved them all.i will definitely order again.thank you. I will spread the word too
Local gem
A lovely selection of cheeses in good condition, delivered to the front door in their local area. What's not to like?
Shipping

Free local shipping to Wimbledon, New Malden, Tooting, Colliers Wood and nearby.

Reduced shipping for London and Surrey.

£7 for postage further afield.

Free shipping for all UK locations if spending over £45

Delivery Date

Once your order has been placed you can get in touch to let us know.

- Your ideal delivery date

- If you have a safe place to leave the parcel

- Any allergen requests

- If you require a specific time for delivery or a same day delivery (subject to stock, either may incur a small fee)

Unless stated delivery will be within 5 working days subject to stock. If out of stock we will get in touch and can subsitute for a higher value similar item or refund. Full refunds available up to 24 hours before delivery.